TYO Inc. (hereafter, TYO) provided remote direction from Japan for videos filmed in overseas locations, and staff members within Japan finished production on the videos by conducting everything remotely, from planning meetings to editing videos, without traveling out of the country. As for the recent works,
a promotional video "REBOOT" of La Fabrique Royale, an event and promotion agency in Paris, and "The Link" music video of Jordan Dennis, a hip hop artist in Melbourne, have launched.
Due to the global spread of COVID-19, it became necessary to conduct domestic filming-related duties, let alone overseas travel, through remote means. The video industry's tendency to involve the "three Cs" (closed spaces, crowded places, and close-contact settings) became an impediment. Amidst the various challenges, TYO signed a medical advisory contract with a company that provides consulting services for COVID-19 countermeasures, and has resumed domestic filming while implementing safety measures under the supervision of medical experts. While keeping an eye on the post-coronavirus situation, we are facing a situation where we need to build a "new normal" for filming, in order to meet the needs of our clients for new video content production.
These days, as the digital transformation accelerates around the world amidst the COVID-19 pandemic, TYO has launched the "Remote World" project, which pursues the possibilities of direction and video production conducted remotely with overseas partners. TYO—which usually does many video shoots in overseas locations every year—has made it possible to conduct filming remotely, a highly challenging task because of the obstacles posed by distance, time differences and language barriers, based on communication with the network of overseas production coordinators that TYO has developed up to this point. We believe that through filming, the landscapes, the people, and the talents we encounter around the world, as well as the ideas of our co-creators and these experiences and expertise which accumulate skills, will become new assets, and that TYO will once again evolve by adapting to global changes. After France and Australia, we are moving forward with future preparations to be able to direct videos in the U.S. and Asia remotely from Japan.
Case 1. "REBOOT" PARIS X TOKYO Remote Directing Project
A promotional video set after the coronavirus, where free runners sprint through Paris at daybreak.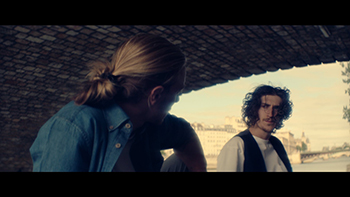 Client: LA FABRIQUE ROYALE
Location: Paris, France
Director: Takuji Kitamura (TYO Inc. SPARK)
Production: TYO Inc. TYO drive
Production in France: N EUROPA
Post Productin: TTR Inc.
Filming period: End of June 2020
▶

To see this work on YouTube
▶

To see the making video on YouTube
■ Comments from Producer Tadashi Umazume (TYO Inc. TYO drive)
We conducted the whole process over the course of a month, from planning orientations, staff location scouting, staff meetings, auditions, remote equipment checks, filming, offline previews, and grading to previews of the full edit, by remotely connecting with the team in France. Due to the seven-hour time difference between Japan and France, it became important for us to make preparations in advance, so that we could have short and efficient meetings.
What I realized from filming a video remotely is that if you don't hone what you want to get across, you can't provide direction at the actual location on the other side of the line. This will also have a positive effect on regular non-remote filming. In addition, by moving forward with remote filming, what is necessary and unnecessary in the overall workflow of the production gets sorted out as a result. I feel like this will become a catalyst for video production to advance to a new stage.


Case 2. JORDAN DENNIS "The Link" Music Video
A music video featuring dancers dancing in a world which uses the coronavirus pandemic as a metaphor.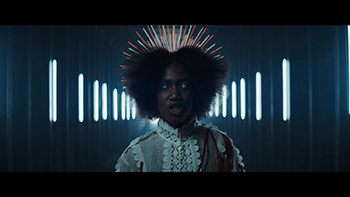 Client: The Operatives
Location: Sydney, Australia
Director: Kensaku Kakimoto (CONNECTION Inc.)
Production: TYO Inc. TYO drive
Production in Australia: Filmreaktor
Filming period: End of May 2020
▶
To see this work on YouTube
■ Comments from Producer Sho Isikawa (TYO Inc. TYO drive)
When the national lockdown in Australia was relaxed in May and filming became permissible as long as infection control measures were in place, I was approached by Jonas, a producer from Sydney's Filmreaktor production company whom I had known for some time, which is how the project got started.
Doing everything on location instead of filming in a studio with a stable network environment—and what's more, doing everything in multiple locations—was a challenging endeavor. We made preparations before filming, such as running simulations with the remote system QTAKE. As for scouting the filming location, it didn't just have to be a place that was visually interesting; it also had to be somewhere that we could use QTAKE without any problems. However, thanks to Filmreaktor's efforts, we were able to film on location in Central Station, a tourist attraction that is usually difficult to rent out.
Even with all the preparations, it was the first time that I had actually done this sort of remotely directed filming, so I was equal parts hopeful and nervous. The director, who was directing from Japan, and the director of photography (DP), who was on location, had a mutual respect for one another. Instead of having the director give detailed instructions, they bounced ideas off each other and made everything run smoothly on location.
There are things we can do remotely that we'd previously given up on because of budget or schedule constraints, and I realized that the addition of options such as directing videos remotely will become the "new normal" for filming.
Contact for Inquiries
Please fill in this form.